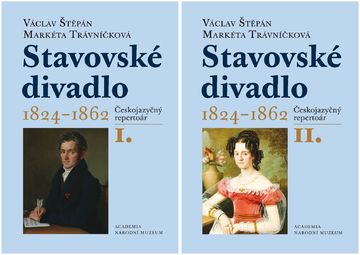 Stavovské divadlo 1824–1862: Českojazyčný repertoár I a II
Year: 2022
ISBN: 978-80-7036-695-0
Author(s): Václav Štěpán, Markéta Trávníčková
Publisher: National Museum, Academia
Place of publication: Praha
Number of pages: part I: 613 + 24 pages of pictorial appendix, part II: 1824 +16 pages of pictorial appendix
Citation: ŠTĚPÁN, Václav a TRÁVNÍČKOVÁ, Markéta. Stavovské divadlo 1824–1862: Českojazyčný repertoár I a II. Vydání první. Praha: National Museum, Academia, 2022. ISBN 978-80-7036-695-0.
The publication is a follow-up to the two-volume monograph Prozatímní divadlo 1862–1883 (Praha, Academia – Národní divadlo, 2006), which uses the same methodology to map in detail the Czech repertoire of the Prague Estates Theatre from the time when the professional Czech company began to take shape and a comprehensive series of theatre playbills survived until the creation of the Provisional Theatre. The research was based on the playbills as a primary and unique source, but their informations were verified and supplemented by studying other sources, contemporary press and literature. The use of the specialised database, the Electronic Theatre Archive, enabled the compilation of not only an inventory of productions and performances, but also an overview of the activities of the creators, stagers and performers of the Estates Theatre in the period in question.