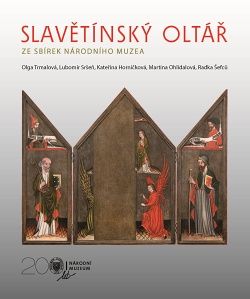 Slavětínský oltář
Year: 2018
ISBN: 978‑80‑7036‑572‑4
Author(s): Olga Trmalová, Lubomír Sršeň, Kateřina Horníčková, Martina Ohlídalová, Radka Šefců
Publisher: National Museum
Type of publication: Monograph
Place of publication: Prague
Number of pages: 136
Citation: TRMALOVÁ, Olga, SRŠEŇ, Lubomír, HORNÍČKOVÁ, Kateřina, OHLÍDALOVÁ, Martina a ŠEFCŮ, Radka. Slavětínský oltář. Vydání první. Prague: National Museum, 2018. 136 stran. ISBN 978‑80‑7036‑572‑4.
The monograph is dedicated to the most significant and largest medieval altar in the collections of the National Museum in Prague. The altar is evidently the largest preserved Czech medieval panel painting. The authors of the monograph approach, among others, an extensive restoration and material research, carried out during the last restoration in 2016.