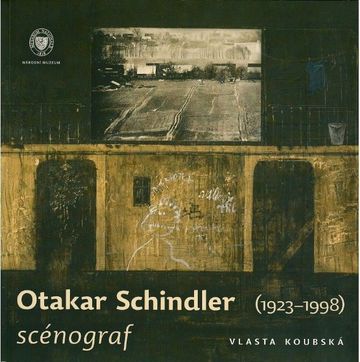 Otakar Schindler, scénograf (1923–1998) (Otakar Schindler, stage designer (1923–1998))
Year: 2009
ISBN: 978-80-7036-269-3
Author(s): Vlasta Koubská
Publisher: National Museum
Type of publication: Book
Place of publication: Prague
Number of pages: 139
Citation: KOUBSKÁ, Vlasta. Otakar Schindler, scénograf (1923–1998) (Otakar Schindler, stage designer (1923–1998)). Vydání první. Prague: National Museum, 2009. 139 stran. ISBN 978-80-7036-269-3.
This is the monography of famous Czech stage designer Otakar Schindler and the catalogue of his stage and costume designes. There are 304 pieces of his designs and one scenic model in the collection of the Theatre Department of the National Museum. Stage and costume designs are mostly created by combined techniques. Most of them are pen and black ink drawings, coloured by gouache, often complemented with collages of paper, little pieces of wood, plywood, textile or synthetic modelling matter. Scenographer Otakar Schindler worked for many Czech theatres, his cooperation with Ostrava, Prague, Plzeň and Brno theatres is the most noticeable. Most of the designs of the collection come from the joint work with the director Luboš Pistorius. Schindler created a noticeable number of twenty-seven productions with him in the years 1976–1993; designs to twenty of them are located in the National Museum's collection. The principles of stage design used by Schindler often stem from the oldest theatre methods ,he interconnected them with the modernest means of expression. Schindler frequently used wood as a natural material, which symbolised truthfulness and primordiality. He created stage constructions, screens and structures of wood, which moved during the performance and changed their meanings. Some productions were inspired by the purity of children's view of the world; others were ironic. Schindler's work uses the principles of so- called "action scenography" to a great extent but never in "pure" form. He combined it with other old and modern stage design principles. He also used painted decorations, light pointed at certain objects and chiaroscuro. Schindler didn't use definite styles but mixed them freely. With their confrontation, he deliberately relativised the basic message of the stage, he made the counterpoint to the dramatic text and stage evens.