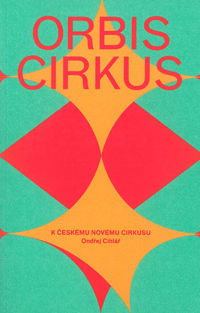 Orbis cirkus
Year: 2014
ISBN: 978-80-7331-280-0
Author(s): Ondřej Cihlář, Hanuš Jordan
Publisher: NAMU, National Museum, Cirkoskop
Type of publication: Book
Place of publication: Prague
Number of pages: 368
Citation: CIHLÁŘ, Ondřej a JORDAN, Hanuš. Orbis cirkus. Vydání první. Prague: NAMU, National Museum, Cirkoskop, 2014. 368 stran. ISBN 978-80-7331-280-0.
The first part of the publication is authored by Hanuš Jordan, historian and curator of the circus collection in Theatre Department of National Museum, and provides a comprehensive overview of the History of Czech circuses. As a form of dramatic entertainment, the circus was first introduced to the Czech lands as early as 19th century with show based on primarily equestrian acts.
The book describes the origin of Czech circuses, estabilishment of the travelling circus tradition, and the circuses first foreign tours, started by the Beránek Circus. It also Explorer the presentation of circus acts in traditional theaters during the summer months, including the Provisional Theatre (predecessor of the National Theatre). It follows the stories of the vast Kludský and Berousek cirkus dynasties to ilustrace the origins, rise and difficulties of the cirkus life in Czech lands within last 150 years. The resilience of the Czech circus tradition is demonstrated by the ability of cirkus and artiststs to survive both the Nazi Occupation of Czechoslovakia and the subsequent nationalization that eradicated private ownership, destroying the essence of family circuses. The era of state-owned Czechoslovak Circuses and Variety (1951–1989) is demonstrated using the history of Cirkus Humberto. The publication then goes on describe the transformation of Czech circuses after the year 1990, when traditional family enterprises were restored and new circus companies was estabilished. The book includes an overview of both Czech and foreign obligations on the history of traditional circuses and provides information on other relevant sources.