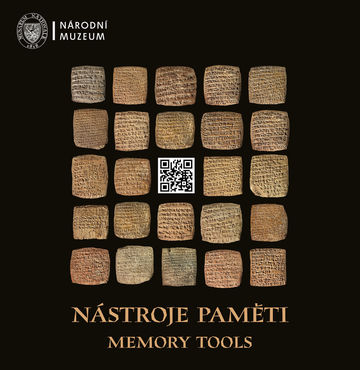 Nástroje paměti / Memory Tools
Year: 2020
ISBN: 978-80-7036-649-3
Author(s): Karel Juliš, Ivana Kumpová, Jana Mynářová, Michal Pech, Ladislav Polák, Petra Štefcová, Jaroslav Valach, Daniel Vavřík, Benjamin Wolf, Petr Zemánek
Publisher: National Museum
Type of publication: exhibition catalogue
Place of publication: Prague
Number of pages: 168
Citation: JULIŠ, Karel, KUMPOVÁ, Ivana, MYNÁŘOVÁ, Jana, PECH, Michal, POLÁK, Ladislav, ŠTEFCOVÁ, Petra, VALACH, Jaroslav, VAVŘÍK, Daniel, WOLF, Benjamin a ZEMÁNEK, Petr. Nástroje paměti / Memory Tools. Vydání první. Prague: National Museum, 2020. 168 stran. ISBN 978-80-7036-649-3.
The catalog for the exhibition "Memory tools" presents in more detail perhaps not very well known, but in the Czech Republic a completely unique set of four thousand years old written monuments, recorded in cuneiform on clay tablets, collected by a prominent Czech scientist prof. Bedřich Hrozný.
The historical value of a file is incalculable; This, of course, means that the ensemble must be taken care of as best as possible so that it is available to all those who come after us. To achieve this goal, various modern methods of natural sciences (documentation, material analysis of subjects, etc.) were used and various methods of humanities were used to describe other properties of these subjects; the collected data were then analyzed and evaluated from various perspectives.
The authors hope that they have been able to show, at least in part, what modern ways and methods can contribute to the effective protection of old "tools of memory" by using new tools, without limiting the possibility of their study or presentation to the public.