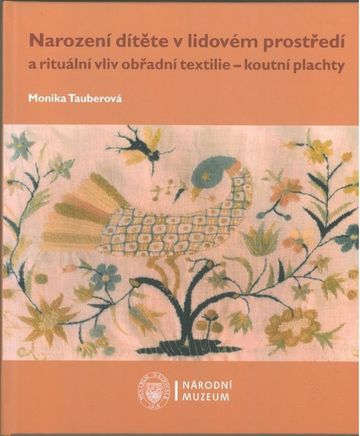 Narození dítěte v lidovém prostředí a rituální vliv obřadní textilie – koutní plachty
Year: 2014
ISBN: 978-80-7036-426-0
Author(s): Monika Tauberová
Publisher: National Museum
Type of publication: Book
Place of publication: Prague
Number of pages: 173
Citation: TAUBEROVÁ, Monika. Narození dítěte v lidovém prostředí a rituální vliv obřadní textilie – koutní plachty. Vydání první. Prague: National Museum, 2014. 173 stran. ISBN 978-80-7036-426-0.
This publication focuses on the birth of a child and describes folk traditions and the role of the corner curtain in Bohemia and Moravia from the 18th to the 19th century. The role of a pregnant woman was defined by the particular cultural tradition and every woman had to observe many obligations and restrictions during the entire pregnancy. The foremost aim was to ensure a successful delivery of a healthy baby. The childbirth has always represented a key moment in the human life, and in the past, various customs, rituals and ceremonies observed by the family accompanied it. There were many traditions connected not only with the childbirth, but also with the longer period before it, the pregnancy, moments immediately after the delivery and the 6-weeks postpartum. The corner played a specific role in the rural life; all four corners of the living room had their specific and fixed functions. Various purposes were attributed to the corner by the front wall on the left with the bed of the young married couple, where, behind the corner curtain, rested the mother during the 6-weeks postpartum period. Except for the general household purpose, the corner also represented a sacred area for the new mother and her baby, a symbolic place of protection and safety. The embroidered corner curtain isolated a newborn baby and its mother, and it represents one of the oldest examples of folk textile art. An invaluable set of corner curtains and their fragments constitutes a part of the Ethnographic Collection of the National Museum. It consists of 2,246 corner curtains from Bohemia, Moravia and Slovakia. The National Museum therefore owns one of the largest collections of corner curtains in the Czech Republic, dating mainly from the 17th century until the second half of the 19th century, and a few from the 20th century.