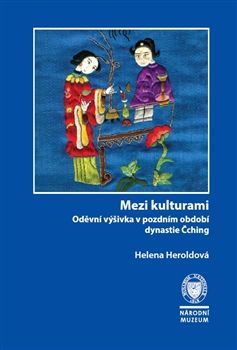 Mezi kulturami. Oděvní výšivka v pozdním období dynastie Čching
Year: 2015
ISBN: 978-80-7036-452-9
Author(s): Helena Heroldová
Publisher: National Museum
Type of publication: Book
Place of publication: Prague
Number of pages: 160
Citation: HEROLDOVÁ, Helena. Mezi kulturami. Oděvní výšivka v pozdním období dynastie Čching. Vydání první. Prague: National Museum, 2015. 160 stran. ISBN 978-80-7036-452-9.
The Manchus controlled the Chinese territory from the mid-17th century until the beginning of the 20th century. They established the multi-ethnic and multicultural Qing dynasty; however, they formed only a small percentage of the population, which was mostly made up of ethnic Chinese. The Manchus were descendants of various ethnic groups. During their invasion to the Chinese territory they created their own social and cultural identity, including their own style of clothing. Their style of clothing was different from the traditional Chinese clothes. This work focuses on historical Manchu and Chinese clothing and embroidery as signs of ethnic and social positions in the multi-ethnic society of China during the nineteenth century, or more specifically, during the period of the end of the Qing dynasty. The introduction is devoted to the theoretical issues of the social function of clothing. Then a summary of various secondary sources about the history of the Qing dynasty and the history of clothing in China follows. Next, a chapter is devoted to the collection of Chinese clothing in the Náprstek Museum. The authenticity of historical textiles is also discussed in this section. The second part deals with the Manchu and Chinese styles of clothing. The historical development of Manchu and ethnic Chinese clothing and the differences between them are described in this part. The third part is devoted to embroidery and its symbolism. Manchu and Chinese clothes were heavily embroidered. Manchu clothing stemmed from Manchu traditions, but the embroidered patterns on it were of Chinese origin. The third part also contains photographic pictures of items from the collections of the Náprstek Museum.