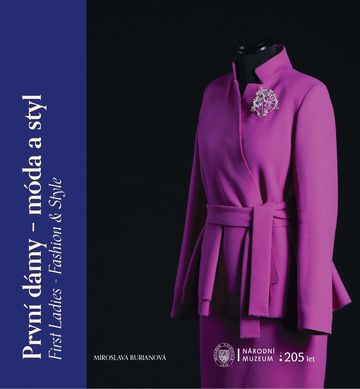 První dámy – móda a styl / First Ladies – Fashion & Style
Year: 2023
ISBN: 978-80-7036-778-0
Author(s): Miroslava Burianová
Publisher: National Museum
Place of publication: Prague
Number of pages: 156
Citation: BURIANOVÁ, Miroslava. První dámy – móda a styl / First Ladies – Fashion & Style. Vydání první. Prague: National Museum, 2023. 156 stran. ISBN 978-80-7036-778-0.
Although the first lady is not an official function, but only a role derived from the authority of the president, she co-shapes his image and the aesthetic side is thus an integral part of her role. The wives of our presidents were very diverse personalities, and this was also reflected in their style, their relationship to fashion and representation. The book presents the preserved clothes and accessories of our first ladies, from Hana Benešová, who is considered a model first lady not only for her impeccable elegant style, to Eva Pavlová, whose fuchsia ensemble became an iconic symbol of the inauguration of Petr Pavel on March 8, 2023. The space is also dedicated to the historical roots of the role of the first lady in the context of European cultural-political institutions, such as etiquette, diplomatic protocol, dress codes and the phenomenon of fashion as well as the specific fashion of the given time.