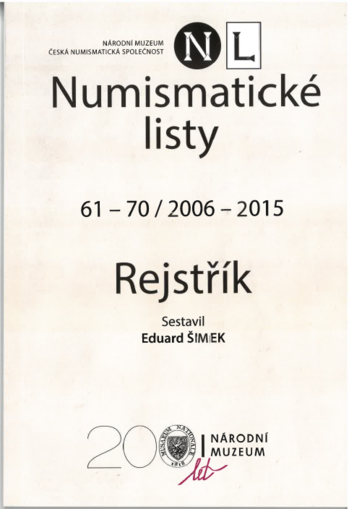 Numismatické listy 61–70/2006–2015. Rejstřík
Year: 2018
ISBN: 978-80-7036-578-6
Author(s): Eduard Šimek
Publisher: National Museum
Place of publication: Prague
Number of pages: 60
Citation: ŠIMEK, Eduard. Numismatické listy 61–70/2006–2015. Rejstřík. Vydání první. Prague: National Museum, 2018. 60 stran. ISBN 978-80-7036-578-6.
Index of the Numismatické listy for ten years covering the period between 2006 and 2015 represents the fourth separate volume (published in 1986, 2000 and 2008 previously) mapping various articles, material studies, short news, reports on new coins and medals, reviews of numismatic literature, exhibitions and numerous conferences. The presented index also describes activities in numismatic departments of different museums, branches of the Czech Numismatic Society and personal agenda published in this journal. The index for the period 2006-2015 represents another contribution to the prepared – and still unfinished – Czech numismatic bibliography which should serve as a basic instrument for understanding the recent situation in the Czech numismatics, its long-term thematic focus and results.
The book is in Czech, English and German.