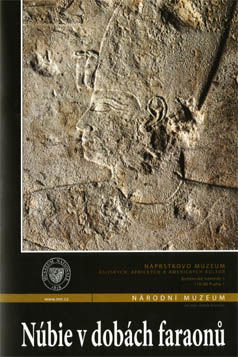 Núbie v dobách faraonů (Nubia in the Time of the Pharaohs)
Year: 2006
ISBN: 80-7036-197-2
Author(s): Pavel Onderka
Publisher: National Museum
Type of publication: Exhibition Catalogue
Place of publication: Prague
Number of pages: 40
Citation: ONDERKA, Pavel. Núbie v dobách faraonů (Nubia in the Time of the Pharaohs). Vydání první. Prague: National Museum, 2006. 40 stran. ISBN 80-7036-197-2.
The Exhibition Catalogue introduces the culture and history of Nubia in the time of the Egyptian Pharaohs. At the time of the birth of a centralised State in Egypt, aboriginal cultures developed in Nubia and, as early as the middle of the 3rd Millennium B.C., the first centralised State of Sub-Saharan Africa was created – the so-called Kingdom of Kerma (2500–1500 B.C.) This State fell victim to the expansionary policy of the New Kingdom (1550–1070 B.C.), during the existence of which Nubia fell under the rule of the Pharaohs. Independent Nubia prospered again in the period of the Kingdom of Napata (1000–300 B.C.), after which the Kingdom of Meroe followed (300 B.C.–350 A.D.) The catalogue includes illustrations and the description of thirty exhibits related to this theme from the exhibits of the National Museum – the Náprstek Museum and the Municipal Museum in Moravská Třebová.