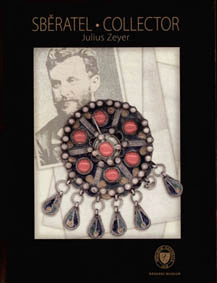 Julius Zeyer – sběratel / Collector
Year: 2008
ISBN: 978-80-7036-254-9
Author(s): Jana Jiroušková, Lukáš Pecha
Publisher: National Museum
Type of publication: Book
Place of publication: Prague
Number of pages: 22
Citation: JIROUŠKOVÁ, Jana a PECHA, Lukáš. Julius Zeyer – sběratel / Collector. Vydání první. Prague: National Museum, 2008. 22 stran. ISBN 978-80-7036-254-9.
The Czech writer Julius Zeyer (1841–1901) collected more than 50 artefacts which are deposited in the Náprstek Museum. Some of them belong to the most precious examples of the traditional handicraft of Asia and North Africa. The book contains not only a list of those artefacts but also their description and information on their acquisition in the correspondence between Julius Zeyer and Josefa Náprstková (and Vojta Náprstek) between 1882 and 1900.